Black Friday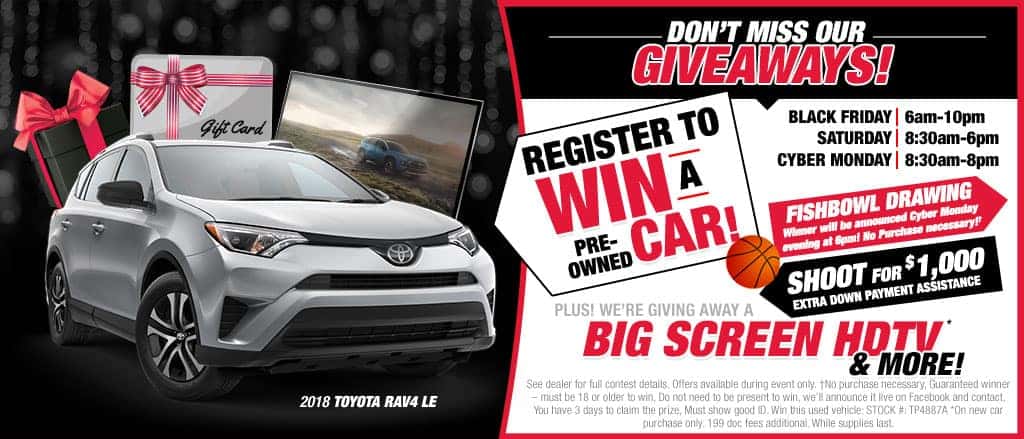 HOURS OF EVENT:
    Black Friday, November 23rd: 6am – 10pm
    Saturday, November 24th: 8:30am – 6pm
    Cyber Monday, November 26th: 8:30am – 8pm
WHAT WE'RE OFFERING:
TV Giveaway on New Car Purchases Only – While Supplies Last

Shoot for $1,000 Extra Down Payment Assistance

Car Giveaway

Fishbowl Drawings

Car Giveaway! No Purchase Necessary!

Put your name in the Fishbowl this weekend at Andy Mohr Toyota for your chance to win a pre-owned vehicle! There is absolutely no purchase necessary! Have the opportunity to put your name in twice for a double entry between 6am-10am on Black Friday! Anyone age 18 or older can enter this drawing, available on November 23, 24, and 26. The drawing will be held at 6pm on Cyber Monday, November 26, you do not need to be present to win!

The winner will be announced on Facebook and we look forward to seeing you there!

Disclaimer: Must be at least 18 years old to enter. Winner has 3 days to claim prize. Must fill out form with name, phone number, and email. Winner must show valid ID and Driver's License.