Winter Maintenance Checklist
Whether we like it or not, winter is on the way. Frozen toes and chilly noses are right around the corner, but we can prevent these dreary winter doldrums by bundling up and celebrating the beauty of the season in the Avon, Indianapolis, and Plainfield areas.
However, we don't always know what to do to take care of our cars when the winter season is approaching, especially in an area that gets inclement weather conditions. By downloading this handy Winter Maintenance Checklist, though, we'll help you figure out the best way to get your car in shape for the upcoming season.
What to Look Out For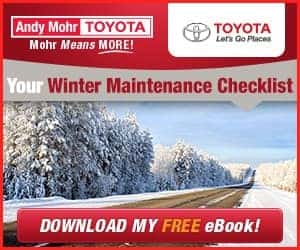 When you download this guide, you'll have full access to all our suggestions for winter car maintenance. We'll give you a sneak peek into some of our tips and tricks for ensuring your safety and the safety of your car this winter.
Tires
Brakes
Emergency preparedness
Don't hesitate to find out what you can do to take the best care of your car this winter. At Andy Mohr Toyota, we offer a full on-site service center to help with any necessary repairs. Download our Winter Maintenance Checklist and find out what you should do today!