Tire Shop

What's the key to effortlessly tackling the roads of Avon, Indianapolis, and Plainfield? A fresh set of healthy tires, of course! By arming your vehicle with new tires every few years, you'll ensure that you're supported by top-notch performance and stability in every situation.
So, if you're in need of a tire replacement to keep your automobile performing at its best, look no further than the tire shop near me at Andy Mohr Toyota. Our skilled professionals will assist you throughout every stage of your journey—from choosing the correct tires to tire repair, and everything in between!
Order Tires
Tire Pressure FAQs
How Often Should You Rotate Tires?
Why Schedule With Andy Mohr Toyota?
Tires matched exactly to your vehicle
Road hazard coverage included on eligible tires
Factory-trained technicians
Price match guarantee
Our Trained Tire Technicians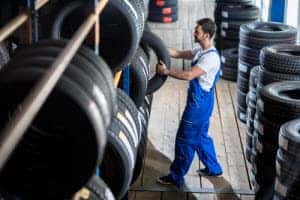 Nothing's more important to you than preserving your car's longevity. And as one of the main components of a healthy automobile, regular tire repairs and replacements allow your automobile to make the most of its powerful engine and safety capabilities.
That way, you'll drive confidently knowing that your vehicle has the ability to face any road or weather condition. Fortunately, the experienced mechanics at our tire shop come with plenty of know-how on performing quality tire maintenance.
On top of that, our technicians are always happy to provide you with more information on what type of tires your car needs. Thanks to our expertise, you'll easily find the correct tires for your vehicle's body type and performance capabilities.
In addition, if you happen to be searching for a tire that can withstand rough terrain, our team will gladly direct you to the types that'll help you tackle anything thrown your way.
To make your shopping experience even more enjoyable, we offer up a convenient online tire shop. Simply enter a few details about your automobile, and you'll be presented with a selection of different options from which to choose.
When Should I Get New Tires?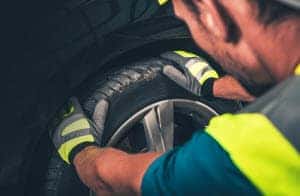 As with any other essential part of your car, there are a number of warning signs to look out for that'll tell you when it's time to get a new set of tires.
Worn Down Tread: The tread on your tires is what gives you enough traction to quickly stop your vehicle in an emergency. However, over time, your tires' tread begins to wear down and lose its grip on the road. If your tread looks a little thin, be sure to schedule an appointment at a trusted service center for a tire replacement or repair.
Vibration: Have you noticed vibrations coming from your car as you're soaring down the highway? If so, this could be a sign of uneven tire wear caused by under or overinflated tires. To identify the source of the vibration sensations in your automobile, make an appointment at a repair facility.
Cracks and Bulges: Any unsightly tears or bumps along the side of your tires is usually a signal that they were damaged by something on the road. Instead of ignoring this symptom and risking a blowout while driving, contact a mechanic who's familiar with repairing tires or replacing them altogether.
Visit Our Service Center Today!
Regardless of your driving habits and lifestyle, it's crucial to make sure that you're furnished with a set of able-bodied tires for the roads of Avon, Indianapolis, and Plainfield. So, when you're ready to surge along the highway like a champion, take a look at the handy links on this page!
To explore more about how our service center can help you with your next tire repair or replacement, stop the tire shop at Andy Mohr Toyota or give our technicians a call today!